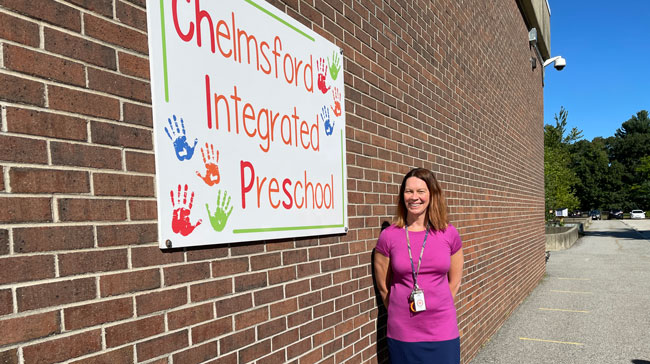 Megan McGuirk Named Chelmsford Integrated Preschool (CHIPS) Coordinator
in Newsletters
CHELMSFORD, MA (Sept. 15, 2021) – Megan McGuirk, a native of Clinton, Mass., was named the Coordinator of the Chelmsford Integrated Preschool (CHIPS), announced Superintendent Jay Lang and Director of Student Support Services Amy Reese.
Ms. McGuirk has been an administrator at Chelmsford Public Schools since 2019 as the Team Chairperson for Special Education at the Byam and Harrington elementary schools as well as the Parker Middle School. She came to Chelmsford following 11 years as a preschool teacher and the last four years as an early childhood education administrator.
"We are the first impression for many families joining the Chelmsford Public Schools system," said Ms. McGuirk. "CHIPS has such a great reputation and I want to continue and build on the solid foundation of its early childhood programming. I would like to do more outreach and continue to meet the needs of the community."
Over the last two years as the K-8 Administrative Team Chairperson, Ms. McGuirk was responsible for overseeing the Special Education department for each of the Byam and Harrington elementary schools and the Parker Middle School. She also facilitated individualized education program (IEP) meetings and ensured compliance with state and federal special education regulations, duties which she also oversaw at her previous districts.
Concurrent with her role at Chelmsford, Ms. McGuirk has been a consultant for the Collaborative for Educational Services Early Childhood Department since 2019. Among many tasks, she has helped develop and facilitate two sessions of a three-credit level institute for the Mass. Department of Elementary and Secondary Education (DESE) Special Education Development Series. Additionally, she coaches four different school districts on the DESE Building Equitable Supports for Young Children with Diabetes Initiative.
Ms. McGuirk spent the 2018-19 academic year in the North Andover Public Schools system as the Franklin Elementary School Evaluation Team Leader where she oversaw the special education department and all IEP meetings, including annual, initial and reevaluation sessions.
For three years prior, Ms. McGuirk served the Gardner Public Schools as the Pre K/Grade 1 Special Education Coordinator at the Waterford Street School where she planned and provided professional development programs for staff and coordinated transition programs for early intervention students. In addition, she coordinated the Child Find Early Childhood and Kindergarten screenings as well as the Extended School Year program.
As a preschool teacher at Clinton Public Schools, Ms. McGuirk evaluated incoming students to determine eligibility for special education services and developed individualized education plans, curriculum and assessments. She also served as the Chair of the New England Association of Schools and Colleges (NEASC) Curriculum Committee and as a member of the NEASC Steering Committee.
Prior to Clinton, Ms. McGuirk was a Fee-for-Service educator with Community Healthlink Lipton Early Intervention, as well as teacher at the Meetinghouse and Westminster elementary schools in Westminster, Mass.
Ms. McGuirk earned her Bachelor of Science degree in Early Childhood Education and Psychology from Worcester State College and her Master's degree in Education from Fitchburg State College. She also compiled 24 additional graduate credits in the fields of special education, English language learners and literacy.
Ms. McGuirk also holds several certifications including Special Education Team Leader Institute (SETLI) from Collaborative Education Services; and is DESE-certified in Moderate Disabilities (Pre K-8), Early Childhood and Elementary and Special Education Administration.
She lives in Westminster, Mass., with her two daughters Anna (19) and Sarah (15).
About Chelmsford Public Schools
The Chelmsford Public School District provides all students with multiple pathways to optimize their own potential for academic excellence, leadership, and social and emotional wellness. The mission of the Chelmsford Public Schools is to educate, engage, prepare, and empower well-rounded and knowledgeable learners to PERSEVERE through challenges, demonstrate RESPECT and INTEGRITY in their words and actions, are DEDICATED to their community, and display EMPATHY as global citizens while discovering and pursuing their full potential.  This PRIDE-driven culture enables all members of the school community to support the growth and development of students.  For more information, please visit www.chelmsfordschools.org.