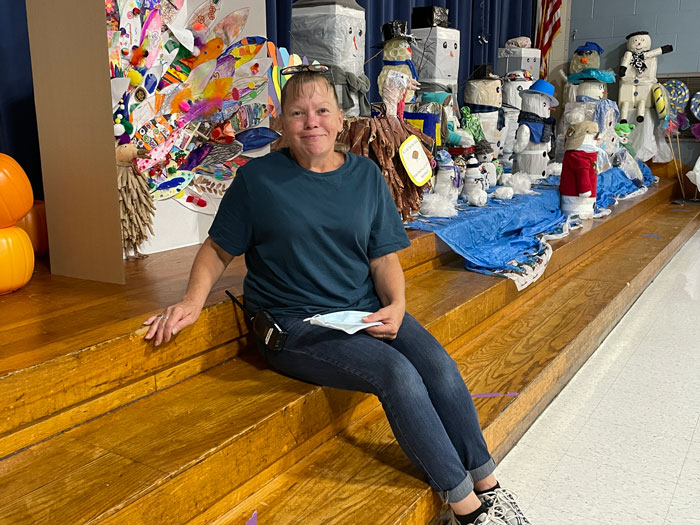 Bringing Art and Life to CHIPS/Community Education is Part of the Job for Cheryl Spaulding
in Newsletters
WATCH: Cheryl Spaulding featured on CTM Newsbreak
Stunning displays made from recycled material adorn CHIPS/CommEd building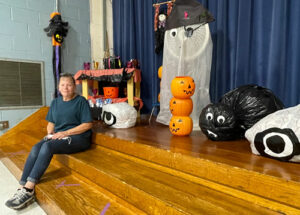 CHELMSFORD, MA (Oct. 15, 2021) – It's only appropriate that Cheryl Spaulding's visual displays sit on the stage in the cafeteria at the Chelmsford Integrated Preschool. She is every bit a star in the eyes of her peers and the students at CHIPS and Chelmsford Community Education.
Ms. Spaulding has been the custodian at the CHIPS/Community Education building on Dalton Road for six years. While she keeps the building in pristine condition, she is perhaps better known for her many visual displays that brighten not just the building, but the days of the CHIPS and Community Education students and staff.
"Her enthusiasm is overwhelming," said Robyn Adams, Director of Chelmsford Community Education. "She just brings spirit to the building. Anything that we are doing here, she will do 10 times above what we ever wanted to do and more."
When Ms. Spaulding sees an item that most folks would throw away or recycle – such as a plastic bottle, shopping bag, a milk crate or scrap paper – she sees the artistic possibilities. And it is the good folks of Chelmsford Community Education and Chips who benefit. An empty water container, painted white, makes the body of a snowman. A vacuum hose, cut in quarters, forms the arms and legs of a robot. Scraps of yarn work as hair for any of the characters she creates.
"I've been crafting since I was little and then my grandchildren came along and we like to tinker with things," said Ms. Spaulding. "When I see things, I'm like, 'I can use that.' With everybody recycling, I try to get more creative to build and see what I can do with recycled material and this is my outcome."
When students, staff and families enter the building, a Halloween display is situated to the left of the Community Education offices. There is a Mr. Potato Head character, made from an empty Tide detergent pods container, sections of a garden hose, the end of a curtain rod and water bottles. There is a tin man made of a plastic juice carton, spaghetti sauce container and two Altoids containers painted gray; and a robot made from a vacuum hose, juice bottle, pods container and tent holders. An old outdoor camera bubble makes an excellent UFO.
"If it puts a smile on just even one person's face, it's well worth it for me," she said.
The majority of Ms. Spaulding's displays are on the cafeteria stage and encompass every season. Milk crates form the body of several snowmen and snow women. To the left of those, a sheet draped over two stand-alone fans make friendly ghosts. She made a turkey out of a cardboard box, water bottle and newspaper, which doubles as a donation box for non-perishables.
Perhaps her best creation is in a nearby supply room – what she calls her 'safari': a colorful cornucopia of animals underneath a straw hut. Identifying the recyclable items in the safari is kind of like a hidden objects brain teaser from a 1970s children's magazine.
"It just makes CHIPS and Comm Ed feel so much more like a community," said CHIPS Coordinator Megan McGuirk. "She is always very responsive to what Robyn and I are looking for and sensitive to cultural needs and what holidays people might celebrate. It bring a nice life to this building.
Ms. Spaulding can't put an exact figure on how many characters and displays she has built. She thinks for a moment and chuckles. "Maybe 100," she said, shrugging her shoulders. "I don't really know."
About Chelmsford Public Schools
The Chelmsford Public School District provides all students with multiple pathways to optimize their own potential for academic excellence, leadership, and social and emotional wellness. The mission of the Chelmsford Public Schools is to educate, engage, prepare, and empower well-rounded and knowledgeable learners to PERSEVERE through challenges, demonstrate RESPECT and INTEGRITY in their words and actions, are DEDICATED to their community, and display EMPATHY as global citizens while discovering and pursuing their full potential.  This PRIDE-driven culture enables all members of the school community to support the growth and development of students.  For more information, please visit www.chelmsfordschools.org.